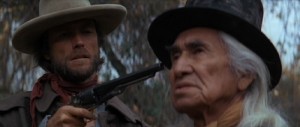 This episode marks the first appearance of Clint Eastwood on the podcast, and we've chosen his first Western directorial effort, The Outlaw Josey Wales. A pure 1970s revisionist Western, this one offers the unusual perspective of heroic Confederates and evil Northerners clashing across the unreconstructed South in the embers of the Civil War. We talk about all that, and to what extent that reflects Eastwood's own conservative views, as well as how much any of that matters when appraising a work of art. There's quite a bit going on beyond that in this film though, and in this podcast, which is jammed full of observations on period appropriate music, John Vernon's inability to escape the legacy of Dean Wormer, a preponderance of messy spitting, some of the better representations of Native Americans put to film, Sondra Locke's difficult time in Hollywood, and the delightfulness of the Snake Oil Salesman archetype. It's a packed episode, but there's a lot going on in this movie. Also, a bit more casual swearing than usual!
At the end, we speak a bit about some other films of note, last year's Best Picture winner Spotlight, and next year's presumptive Best Picture winner London Has Fallen. On the next episode, we'll be discussing the Jimmy Stewart as antihero western The Naked Spur, which I've never seen and Dad can't remember. We're also going to start taking requests, and see how that goes. If you've got something you'd like hear us talk about, send it on over to westernswithdad@gmail.com. Additionally, why not leave us a review and rate us on iTunes? It costs nothing, and you'll probably end up more popular at work if you do. It stands to reason.
The Outlaw Josey Wales was directed by Clint Eastwood and stars Eastwood, Chief Dan George, Sondra Locke, and John Vernon. It was released in 1976, and is totally good, so you should see it. Or see it again, if you're the type interested in podcasts like this.
Podcast: Play in new window | Download (Duration: 1:21:49 — 112.4MB) | Embed
Subscribe: Apple Podcasts | Android | RSS