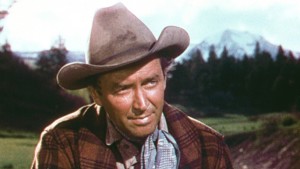 After a longer than usual break, the podcast is back with a look at the 1953 "Western noir" The Naked Spur, starring Jimmy Stewart and Janet Leigh. And Robert Ryan, who we kind of shit talk a little bit here. One of Stewart's several Western collaborations with Anthony Mann, this is a spare, exciting bounty-hunter thriller, featuring an oscar nominated screenplay and several beautiful Rocky Mountain vistas. Me and dad discuss the versatility of his generation's Tom Hanks, the phenomena of the old timey Prospector and his furious lust for gold, the effectiveness of geography-based action sequences, and end up on a surprisingly harsh view of narrative-driven sentimentality with regards to bounty hunting. Seriously, the two things just do not belong together! There's a few Jimmy Stewart impersonations, as you might expect, though to be honest I really would have liked more.
A brief disclaimer on this episode: First off, sorry about the sound. I know, it's not that bad. It's consistent, and once you plug into it, you don't notice. We were trying to do some new stuff, and it didn't pan out. So the levels are off!
In the end, we briefly discuss trips to Arizona, both past and present, and then I offer possibly the most disinterested review of Batman v Superman: Dawn of Justice you could possibly imagine. I just got nothing useful to say about it. Next time, we'll be jumping up the 1980s with the ensemble piece, Silverado. As always, you reach us at westernswithdad@gmail.com!
Podcast: Play in new window | Download (Duration: 1:07:55 — 93.3MB) | Embed
Subscribe: Apple Podcasts | Android | RSS