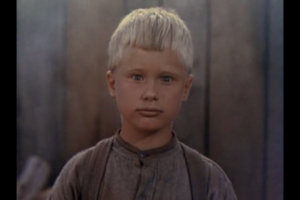 One of the greatest movies ever made, according to the American Film Institute, this week we're dealing with George Stevens' 1953 classic Shane. Setting the basic tone and template for dozens of westerns to come, Shane features Alan Ladd as the titular gunslinger, who arrive out of the mist to help a family of good-hearted homesteaders stand up to a bullying rancher and a sadistic hired gunman. The wellspring for lots of famous tropes of the genre, it features quotable dialogue, gorgeous outdoors scenery and the general cock-eyed optimism of the 1950s. Dad loves this one, and it's totally endearing to hear him get really excited about it, while I'm all circumspect and Gen-X ironic in my reaction, focusing on the awkward child actor at its center and the accidental emasculation of homesteader Joe Starrett by the film's hero. Seriously, much of the film is about how much this guy's family prefers Shane to him. We also touch upon Elisha Cook jr's. absolute mastery of being a loser, the whimsical nature of deer, how comfortable a suit made of buckskin must be, the importance of backbreaking labor in the Old West, the general foulness of child actors, the excellence of Shane's barfights, and the practicality of human decency in a lawless world of murderers. Also, Dad revels in some of his favorite lines of dialogue of all time.
We've got minor sound issues in this episode, most noticeably in the first few minutes. The dialogue on my end is popping a bit. It's annoying, but it goes away after three minutes or so, and it's only on my end. Which isn't much of a problem, as Dad's enthusiasm for Shane means he does a lot more of the opening banter than usual. We also briefly talk about the Tom Berenger film Sniper and the Gerard Butler epic Gods of Egypt, both every bit the equal of Shane, and likely future entries on the AFI top 100 list.  On the next episode, we'll take on Michael Mann's The Last of the Mohicans, starring Daniel Day Lewis.
Shane stars Alan Ladd, Jack Palance, Ven Heflin, Jean Arthur and Brandon De Wilde. It was directed by George Stevens.
Podcast: Play in new window | Download (Duration: 1:13:33 — 101.0MB) | Embed
Subscribe: Apple Podcasts | Android | RSS