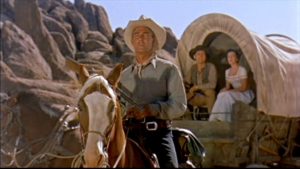 In this episode, Dad and I take on the 1956 Bud Boetticher picture Seven Men From Now. The first collaboration between Boetticher and Randolph Scott, this set the tone for a series of formalist westerns and featured a memorable, star-making supporting turn from none other than Lee Marvin. It tells the story of a sheriff looking for justice running up against a pair of tenderfoot settlers and a man of questionable motives from his past. Along the way, you get Indian battles, river fording, box canyon shootouts and sexual obsession! Dad and I also take the time to explore such interesting sidebar conversations as what animal Randolph Scott most resembles, the conflict between impossibly noble stoicism and messy human pragmatism, goofy John Wayne anecdotes, the soft racism of Native American tribes used as window dressing, and as always, the impressiveness of acts of physical prowess in a muscular adventure yarn like this. It's a good episode all around, and I think gets close to the stated purpose of this show; we're really starting to look under the hood at what makes westerns tick.
Afterwards, we discuss last year's Best Picture nominee Brooklyn, which Dad had a hard time making sound exciting, and Captain America Civil War, and especially who Black Panther is. Next week, we'll be venturing for the first time into the modern time period to the Billy Crystal comedy City Slickers. We'll se how that goes.
Seven Men From Now stars Randolph Scott, GaiL Russell and Lee Marvin, and was directed by Bud Boetticher. It was released in 1956 and is available in its entirety on YouTube. We both liked it, you should check it out.
Podcast: Play in new window | Download (Duration: 1:13:41 — 101.2MB) | Embed
Subscribe: Apple Podcasts | Android | RSS