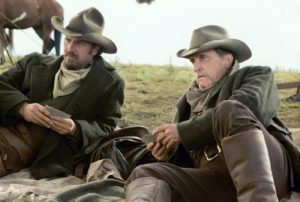 One of the few Westerns to see major release in the Aughts, Open Range is a great collaboration between Robert Duvall and Kevin Costner, proving correct the notion that all a movie needs is to be a good story, well told. One of Dad's favorites, and in my opinion the best Costner Western, this is probably a bit underrated and deserves to be seen by anyone even reading an episode description of a podcast such as this. It's got pretty much got everything you could want from the genre, evil ranchers and whatnot, and of course features Robert Duvall at the height of his Western game, which is pretty much a sight to behold. Topics of conversation include the Western as a labor of love for Creatives, the location of craws, the narrative difference between Justice and Revenge, Dad's crush on Annette Bening, the effectiveness of casting Albus Dumbledore as a sneering villain, character actor Julian Richings, the trope of the gunfighter haunted by his past, the video game concept of ludonarrative dissonance, and a number of foul Irish accent attempts. Freegrazers!
Afterwards, we talk about of number of films, many of them starring Steven Seagal (Dad received a collection of his films for Christmas), and I dither a bit about La La Land, trying to explain why I liked it and other might not but also with no spoilers. Whatever, it's a nice movie, check it out. There's a bit of Game of Thrones talk in there as well, which despite what I say, results in no particular spoilers. Next episode, we'll be taking on the early Clint Eastwood revenge picture Hang 'Em High. In the meantime, why not leave a review and/or star rating for us on iTunes, as it will surely grant you luck and advantage in the coming year! You can also reach us at westernswithdad@gmail.com
Open Range was directed by Kevin Costner and stars Robert Duvall, Costner, Annette Bening, Michael Gambon, Michael Jeter, Diego Luna and Abraham Benrubi. And Julian Richings.
Podcast: Play in new window | Download (Duration: 1:25:48 — 98.2MB) | Embed
Subscribe: Apple Podcasts | Android | RSS