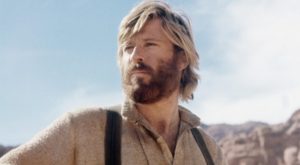 The essential Mountain Man adventure, Sydney Pollack's 1972 Jeremiah Johnson, is the subject of this episode. Starring Robert Redford as the titular trapper, this film is an ecstatic rumination on man's relationship to nature, as represented by some of the most gorgeous nature photography ever seen in a film. Sometimes, wistful, sometimes bleak, and always thrilling, it's a flat out awesome film, containing multitudes of ideas, emotions and truths, and Dad & I are pretty much in awe of the whole thing from the start. Topics of conversation include the specific nostalgia and wanderlust engendered by Utah's Zion National Park, Sydney Pollack's eclectic career, more Indian killing, the evolution from humanity to the realm of myth of legend, my personal fascination with the works of John Milius, the fluid nature of time and language, Robert Redford stories, and more than anything, the sheer and frightening power of the natural world, all within the context of this cowboy version of Walden. That's a literary reference I neglected to mention, along with I Am Legend, which the ending resembles slightly. All I managed to get off were a few fairly quick references to Hemingway and Jack London. Anyway, we loved it, and you should check it out.
Afterwards, a brief discussion of Bull Durham and Kevin Costner's baseball affinity, as well as Lo and Behold: Reveries of a Connected World, the new Werner Herzog documentary about the Internet and its wonders. Next week we'll be starting off "Current Release September" with the brand new Jeff Bridges Texas Crime thriller, Hell or High Water. Please rate and review us on itunes, and if you'd like to make a request or share a comment or thought, you can reach us directly at Westernswithdad.com!
Jeremiah Johnson was released in 1972 and stars Robert Redford. It was directed by Sydney Pollack.
Podcast: Play in new window | Download (Duration: 1:14:37 — 102.5MB) | Embed
Subscribe: Apple Podcasts | Android | RSS