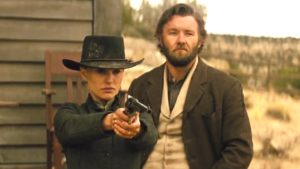 This episode focuses on a film (barely) released earlier this year, Gavin O'Connor's Jane Got a Gun. Imagined as a star vehicle for Natalie Portman, this attempt at a Western from a feminine perspective had a long and tortured route to the big screen, going through various cast changes and a director who abandoned the film on the first day of production. The strain in evident in the finished film, and I believe this is the most negative we've been inclined to get on a movie, which is kind of doesn't sit well, I have to admit. That said, it's not a bad watch, and if you're a fan of the surprising number of name stars (and of course, the Western genre, as we are), it's still a totally watchable attempt at a modern western exercise. Topics of conversation include Natalie Portman's screen presence, the maudlin and embarrassing reliance on flashback, how to represent heavy trauma on screen, the status of today's westerns as passion projects, and a bit about the Star Wars prequels of course.
Going unmentioned, because we're quite frankly not the most professionally minded podcasters out there, are the various ways you can contact us and help the show. We are reachable by email at westernswithdad@gmail.com, and we would love it if you would like to write us a review on iTunes, or even just give us a star rating there. Please overrate us, if you don't mind!
We've got some good requests coming up, so get ready for those, but next week, we'll be talking about 2016's major Western release, Antoine Fuqua's remake of The Magnificent Seven. That'll be two weeks from now, and I'll also be trying to watch the three sequels made to the original Yul Brynner picture. We'll see how that goes! At the end of the episode, we discuss other stuff we've been watching, specifically John Carpenter's They Live, a SciFi social satire from the 80s starring 'Rowdy' Roddy Piper, and a bit about Seattle sports. That might be something we talk about from time to time, now that we're in the Fall. Sorry!
Jane Got a Gun star Natalie Portman, Joel Edgerton, and Ewan McGregor, and was directed by Gavin O'Connor.
Podcast: Play in new window | Download (Duration: 1:05:46 — 75.3MB) | Embed
Subscribe: Apple Podcasts | Android | RSS