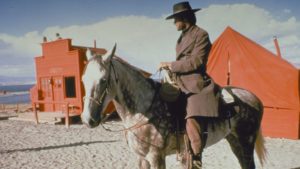 Once again, October means that we're talking about Horror and Horror-Adjacent movies on Westerns With Dad, and this time, it's Clint Eastwood's 1973 allegory about Divine Justice, High Plains Drifter! Taking the form of a more traditional yarn – a town, threatened by villains, hires a gunslinger to defend them – this film slowly reveals itself to be far more diabolic than it initially seems. Topics of conversation include John Wayne's habit of letting you know when he's been offended, old Tales From the Crypt comics, the ugly sexual politics of the film's infamous rape as retribution sequence, Eastwood's narrow window of screen persona, the evocative excellence of the film's location shooting, the unseen moral laws of the universe, and their enforcement by Divine Grace, and a wide variety of theories regarding the movie's relationship with the supernatural world. You'll get some Clint impersonations, sure, but there's quite a bit of talk about Hell and God and the Vengeance. In short, one of my favorite kind of episodes. There's also some construction work happening in the background, which has been a constant of life in my apartment for about a week and a half now! I'm sorry about that!
Near the end, we spend a little bit of time discussing Barry Lyndon and The Dead Zone. Please visit us online at westernswithdad.com, where you can download episodes that have moved off the iTunes feed, and if you'd like to email us with ideas for movies or any questions or insights, you can do so at westernswithdad@gmail.com. Additionally, why not leave us ratings and reviews on the aforementioned iTunes? It improves the profile of the show and makes us happy!
On the next scary Halloween episode of Westerns With Dad, we'll be talking about either the Kathryn Bigelow Southern-Fried vampire flick Near Dark, or the completely unknown collection of Western-themed Horror stories, Grimm Prairie Tales! If you've got a preference, let us know! Although it will probably come down to availability.
High Plain Drifter stars Clint Eastwood and was directed by Clint Eastwood.
Podcast: Play in new window | Download (Duration: 1:10:35 — 80.8MB) | Embed
Subscribe: Apple Podcasts | Android | RSS