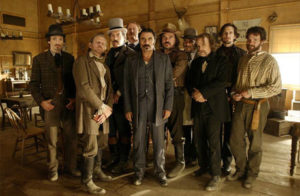 This is an episode I've been dying to try out since we started, an in depth look at HBO's brilliant Western TV show Deadwood. Starring Ian McShane and Timothy Olyphant, it tells the story of the historic South Dakota mining camp where Will Bill Hickok was killed. This being the first episode we've done wherein we try to cover the entire breadth of a television season, of one of the more complicated and philosophical television shows ever made, we are all over the map with this, bouncing across the season's larger plot lines, and I hope it makes sense! We talk about the history the prestige series on HBO, the way the show deconstructs the very idea of good guy versus bad guy in its portrayals of Seth Bullock and Al Swearengen, the show's larger thematic concerns regarding the impromptu formation of society, the amazing and impressive set constructed for the show, and quite a bit about the show's characters and plot lines, and their amazingly intricate overlaps and intricacies. Look, I'm not gonna lie, I just go on and on in this one, I can talk about this show forever. I'm doing impersonations of Doc Cochrane, EB Farnum, The Reverend Smith, it's pretty indulgent. Look there, I just listed those names with the confidence you'd know who I was referring to. So self indulgent. It's a lot to take in, I'm not gonna lie, and our longest episode to date. But the point is, you should watch Deadwood. It's absolutely brilliant. There's two whole seasons after it that we don't touch on. Watch them before we try to take those on as well!
The only other thing we've been watching is American Gods, the new Ian McShane starring show, now on Starz. With all our chatting, we never even get around to all the ways you can reach us. Visit us on the web at westernswithdad.com, and if you have questions or requests for us, please email us at westernswithdad@gmail.com. You can also find back episodes available for download on our website! In the next episode, we'll be talking about Thunderheart, a modern day western starring Val Kilmer.
Deadwood was created by David Milch, and stars Timothy Olyphant, Ian McShane, Molly Parker, William Sanderson, Powers Boothe, John Hawkes, Paula Malcolmson, W Earl Brown, Brad Dourif, Robin Weigert and Keith Carradine.
Podcast: Play in new window | Download (Duration: 1:46:46 — 122.2MB) | Embed
Subscribe: Apple Podcasts | Android | RSS