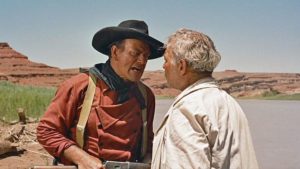 The Searchers, 1956, is arguably the greatest Western ever made. The most acclaimed film from both John Ford and John Wayne, it tells the purely American story of a kidnapped young girl and the two men driven to recover her, amidst the bloody crucible of the American Indian Wars. Both lauded for its artistic mastery and a bit notorious for its portrayal of Native Americans, it's as fundamental as the genre gets, and features a truly revelatory performance from the never-better John Wayne. Might be Dad's favorite movie. We talk about its inherent greatness a lot, and also the surprising brutality and darkness that gives it such depth. Topics of conversation include the glory of Monument Valley, the film's evoking of community and day to day life in the Old West, the greatness of the undervalued second lead Jeffrey Hunter, the horror of frontier life (as exemplified by the terrifying 'lantern scene'), the film's efficacy as an early revisionist western, the questionable use of comic relief characters, the shocking hatred and viciousness of Wayne's lead character Ethan Edwards, the difference between a racist film and a film with racist characters, and of course, the film's famous and iconic final shot, as well as its place in film history. Oh, it's really something, and it's been a legitimate concern for us that we won't be able to fully do it justice. As a production note, my apologies on the larger-than-usual bit of ambient sound. It's not a real problem or anything, but its a hair less professional than we're trying to be here.
Additional films discussed are Maureen O'Hara's essentially unknown Cherokee Territory and the new adventure epic The Lost City of Z. You can reach us through our website, westernswithdad.com, or email us at westernswithdad@gmail.com Also, why not leave us a review and/or rating on the iTunes website, which will no doubt enhance your social standing and bless you with a fine and full harvest. Next week, we'll be discussing a far more recent offering, the newish Danish immigrant western, The Salvation, starring Mads Mikkelsen and available now on Netflix!
The Searchers was directed by John Ford and stars John Wayne, Jeffrey Hunter, Vera Miles, Natalie Wood and Ward Bond. And a bunch of other people.
Podcast: Play in new window | Download (Duration: 1:32:05 — 105.4MB) | Embed
Subscribe: Apple Podcasts | Android | RSS