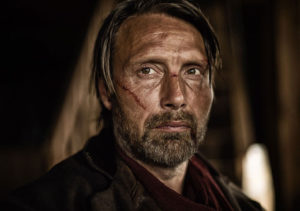 In attempting to examine the breadth of the Western genre, we want to focus on films from all eras, and that includes the modern movie landscape. So this week, we're taking a look at The Salvation, a genre exercise from only a few years ago! Starring acclaimed actor Mads Mikkelsen, this is a modern version of the familiar revenge thriller, set in the old west. It features a pretty terrific cast and a solid set-up, but both Dad and I feel it doesn't quite do enough to distinguish itself, especially in failing to fully embrace the things that make it unique. In particular, the character's status as Danish immigrants, a tantalizing plot and thematic idea that ends up not going much of anywhere. Topics of conversation include the Dogme 95 movement and provocateur filmmaker Lars Von Trier, the constant use of dark, oily filters, the sometimes in-your-face nihilism of the chosen subject matter, how terrific Mads is as the new Hannibal Lector, how terrific costar Eva Green is on her own TV show, Penny Dreadful, the surprisingly nasty and evil townspeople presented in the film, the enigma of the titular Salvation, and my speculation that the film is actually about what drives people who have been constantly victimized to survive, although that may actually be reaching a bit. This has a bit more digressions than usual, but then, it's not a film with an excess to discuss, I'm afraid.
At the end, we discuss Guardians of the Galaxy Vol. 2, and its very charismatic use of Tombstone actors in prominent roles. There's also a bit of talk of the new Dark Tower trailer, and the ways it may overlap into the Western genre. Please visit us online at westernswithdad.com, where you can hear back episodes of the show, and also hey, how about leaving us ratings and reviews on iTunes? That'd work out great for us! Next week, we'll be talking about the middle segment in Sergio Leone's Man With No Name trilogy, For a Few Dollars More!
The Salvation was directed by Kristian Levring and stars Mads Mikkelsen, Eva Green, Jeffrey Dean Morgan, and Jonathan Pryce.
Podcast: Play in new window | Download (Duration: 1:09:37 — 79.7MB) | Embed
Subscribe: Apple Podcasts | Android | RSS