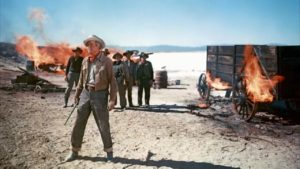 It's been too long since we've talked Jimmy Stewart on Westerns With Dad, so it's time to revisit his series of collaborations with director Anthony Mann, with The Man From Laramie! Their final film together, it tells the story of Will Lockhart, seeking justice for his dead brother in the isolated town of Coronado. Once there, he become entangled in a messy family squabble involving illegally sold rifles, a feud between wealthy land owners, and Jack Elam as some kind of bizarre jerk. Topics of conversation include the Dad's fondness of the old Drive-In theaters, the film's much touted Cinemascope filming, Dad knowing all the character actors in it and me knowing none of them, the allusions to both King Lear and Charlemagne in the film's legacy battles, how terrific Jack Lemmon is in The Great Race, and my opinion that the movie has the wrong protagonist and point of view character. And there are of course a few Jimmy Stewart impersonations.
In addition, I have some thoughts about how delightful I found the new adaptation of Stephen King's It, my recommendation falling on Dad's deaf ears. On the next episode of Westerns With Dad, we'll be talking about Dustin Hoffman's Little Big Man. If you want to help out the podcast, please be so kind as to leave ratings and reviews for us on iTunes, as it helps increase the visibility of the show. Also, we have episodes that have fallen off the iTunes feed available on our website, westernwithdad.com, including Anthony Mann's The Naked Spur. You can reach us directly by emailing us at westernswithdad@gmail.com, were you can request episodes or ask us questions to be answered on the podcast! How about all that?
The Man From Laramie was directed by Anthony Mann and stars Jimmy Stewart, Arthur Kennedy and Donald Crisp.
Podcast: Play in new window | Download (Duration: 1:10:28 — 80.6MB) | Embed
Subscribe: Apple Podcasts | Android | RSS