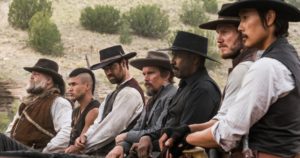 Brand new, in theaters right now, we're doing the big Western release of 2016, Antoine Fuqua's remake of The Magnificent Seven! The is remake brings the podcast to the movie theaters, and even flirts with relevance for a moment, as we discuss in detail something one rarely gets to look at when discussing Westerns, a brand new film. We're slightly of two minds on this, but for the most part I'd say we agree it's a big, silly Adventure yarn, full of winning, if surface level, performances. Topics of conversation include Peter Sarsgaard's career playing creeps, the relevance of cool in the modern age, weaponized jars of bees, whether or not Denzel Washington has ever rode a horse before, the mortality rate of messing with the Magnificent Seven in off hours, magic gatling guns, and oddly enough, anthropomorphized badgers, which in turn leads to me explaining the Furry community to my father. It's a lot of laughing, but I think we get into why this new Magnificent Seven is both no great shakes and a fun time at the movies anyway.
Beyond that, we talk about sequels to the original film, The Return of the Seven and The Guns of the Magnificent Seven, both of which are not especially good (and Guns replaces Yul Brynner with George Kennedy, which is just undeniably a downgrade). It's a veritable Magnificent Seven-Palooza! Next week, we'll be taking another furtive stab as "timely" by visiting the original Westworld, as the new HBO show starts airing. You can reach us as westernswithdad@gmail.com, and hey, why not leave a positive review on iTunes? It costs you nothing!
The Magnificent Seven was directed by Antoine Fuqua and stars Denzel Washington, Chris Pratt, Peter Sarsgaard, Hailey Bennett and Vincent D'Onofrio. It's out in theater right now, and if you're the type to listen to this podcast, it's probably a solid choice to watch as some point!
Podcast: Play in new window | Download (Duration: 1:09:13 — 79.2MB) | Embed
Subscribe: Apple Podcasts | Android | RSS