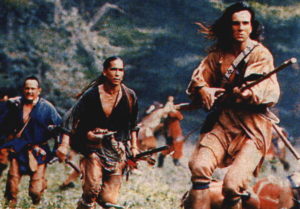 For the first time on our podcast about Westerns, we review a movie that just isn't a Western, Michael Mann's frontier epic, The Last of the Mohicans. It is, in fact, about half a dozen other genres before it's a western, and we discuss it at length, as well as why this film about Native Americans and frontier adventure so plainly is not an appropriate choice for our show. But it's also a really good movie, with lots of great stuff to recommend in it. Topics of conversation include Daniel Day-Lewis and his facility with American characters, the tweedy rottenness of the British empire, the gorgeous scenery and convincing violence on display throughout the film, the film's strong Ridley Scott-ish vibe, how horrible it is to run up a hill, how much I bet the movie is like the show Outlander which I've never seen, a Burt Lancaster movie called The Kentuckian, and of course, the eradication of the Whitehair Munroe and his seed. Despite not being a Western, it's a pretty strong film, with good performances and a great sense of adventure. The score's very strong as well.
Additionally, we discuss some other recent releases, including High Rise, an insane British film about wealth inequality and eating dogs, which I am seriously shocked that Dad watched. And I report in on Odd Thomas, an Anton Yelchin film about the unpredictable nature of life and death and also domestic terrorism. It's a light family adventure rendered more poignant by real life tragedies. Worth a look! Next week, we'll be taking on the film we've been waiting for since we started: Tombstone. We've been working up to this one, and it feels like the time is right. And with a special guest!
The Last of the Mohicans stars Daniel Day Lewis, Madeleine Stowe, Russell Means and Wes Studi. It was directed by Michael Mann.
Podcast: Play in new window | Download (Duration: 1:18:16 — 107.5MB) | Embed
Subscribe: Apple Podcasts | Android | RSS