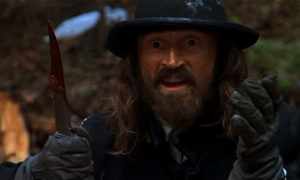 The attempt to focus on Halloween/Horror based Westerns in October continues with the cult classic Ravenous! A cannibal horror yarn, talking place in the wilds of Northern California during the Mexican American War, this 1999 feature balances a lot of craziness within its runtime. From the impressive ensemble cast to the strange, discordant musical score to the unusual cannibal mythology, Ravenous defies easy description with it's dark comedic tone. More or less ignored upon release, its gained a cult following because of its total weirdness. It's one of those movies Dad would never have watched without this podcast, and so thanks for helping facilitate that! Conversations range from our various experiences with star and lead cannibal (and Full Monty headliner) Robert Carlyle, the finer points of the cannibalism superpowers, the effectiveness of a completely outrageous musical score, Dad's ignorance of the rich, Wendigo folklore out there, the unfortunate circumstances surrounding character actor Jeffrey Jones, what the grossest moment is, and the sad paucity of Horror-themed Westerns. This film was a request from Keef from Scotland, and thank you Keef, it was an excellent pick.
In the end, we talk more about Halloween, including my recent visit to Salem, Massachusetts. Other movies discussed at the end are the new Ben Affleck thriller The Accountant and the seasonal masterpiece Halloween III: Season of the Witch. You can reach us at westernswithdad@gmail.com, where you can make requests like this one (more weird ones, please!) Also, please rate and review us at iTunes, because it helps visibility on the podcast! Next week, we'll be returning to the traditional western, with the oft-remade John Wayne classic Rio Bravo, another listener request!
Ravenous was released in 1999. It was directed by Antonio Bird and stars Robert Carlyle, Guy Pearce, Jeffrey Jones, David Arquette, Jeremey Davies, Stephen Spinella, Neil Mcdonough and John Spencer.
Podcast: Play in new window | Download (Duration: 1:17:36 — 88.8MB) | Embed
Subscribe: Apple Podcasts | Android | RSS