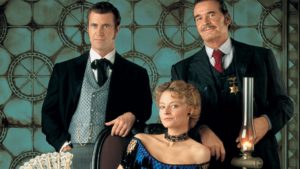 This episode focuses on Maverick, an adaptation of the old TV show, featuring Mel Gibson in his only stab at the Western. It's a goofy romp, very laid back and upbeat, and probably a bit better than its reputation at this point, by virtue of being so lightweight. Featuring a script by William Goldman, it's a story riverboat gambling, con artists and some brief Saturday afternoon adventure, featuring Gibson, Jodie Foster, and the star of the original Maverick, James Garner. In the end, I think we're mostly pretty positive about it, but in truth, if you're a fan of digressions, this is the episode for you. Free of the obligation placed on us by having to speak about a truly important film that people really care about, we follow Maverick's lead and just amble around discussing all manner of Mel Gibson related tidbits and the like. Topics of conversation include fairly detailed examinations of Lethal Weapon 4 and The Beaver, the palpable chemistry and friendship between Gibson and Foster (despite all logic to the contrary), the huge number of Western stars appearing in silent cameos, the romantic mystique of Riverboat Gambling, an excised Linda Hunt subplot, Rocky and Bullwinkle style satire, the greatness of Jack Lemmon, how much we miss Sean Connery and Gene Hackman, and a fair bit about the most effective comedy in the film, some pointed jokes involving Graham Greene. It's more of a hangin' out podcast than usual, but we had a great time recording it. Hope it plays for you!
We also spare a moment at the end to discuss Mel Gibson's latest offering, the war film Hacksaw Ridge, and then a bit about the Seattle Seahawks, and how they're doing. Next time, we'll be talking about a Christmas Western, the John Wayne starring The Three Godfathers, which apparently is a Western version of the Bible story of the Three Kings visiting Christ in the manger. We'll certainly see how that goes! You can email us at westernswithdad@gmail.com, and please remember to leave ratings and reviews on our iTunes page!
Maverick stars Mel Gibson, Jodie Foster and James Garner. It was directed by Richard Donner and written by William Goldman.
Podcast: Play in new window | Download (Duration: 1:29:52 — 102.8MB) | Embed
Subscribe: Apple Podcasts | Android | RSS