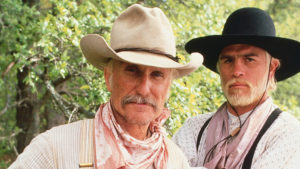 On this episode, one of Dad's favorites' the TV miniseries adaptation of Larry McMurtry's Lonesome Dove! One of television's most celebrated series, it tells the epic story of a cattle drive from Texas to Montana, taking the time to explore the details of frontier life and the the expansive branching stories of over a dozen characters. At its centerpiece is a all time great performance by Robert Duvall, at his most charming and magnetic, with a number of other esteemed western actors along the way, played by such grizzled visages as Tommy Lee Jones, Robert Urich, Danny Glover, Chris Cooper and Angelica Huston. And Diane Lane as a young prostitute! There's an enormous amount of incident, all of it informing the whole in such a way that one could argue that Lonesome Dove is the ultimate Western, offering pretty much everything one could ask for in the genre. Topics of conversation include the differences between TV now and TV thirty years ago, the leisurely pace of a western novel (as opposed to a western film), the enigma of the title, Robert Duvall's excellence as demonstrated by his character's predilection for whores, the dance between the romance of the story's western adventures and its bleak, downbeat realism, especially with regards to mortality and the fragility of life on the trail, and a little bit of a chat on the John Huston classic The Man Who Would Be King, Michael Caine impersonation and all. It shares a helpful ghost with Lonesome Dove! We tried to not to let this one get too long, but this is an epic story, full of meanders and digressions, which kind of informs any conversation about it as well.
Additionally, we talk a bit about the new WWII film Dunkirk, which is awesome and Dad enjoyed very much, and I have some thoughts about the surprisingly creepy Mrs. Doubtfire, the Robin Williams family comedy about gaslighting and revenge. Visit us online at westernswithdad.com, where you can download older episode that have fallen off the iTunes feed! And also, if you've got questions or requests, please send them to westernswithdad@gmail.com, and why not leave positive ratings and reviews on iTunes, as that certainly helps us out! On the next episode, we're back to Jimmy Stewart, with The Man From Laramie.
Lonesome Dove was directed by Simon Wincer and scored by Basil Poledouris, based on the novel by Larry McMurtry. It stars a career-best Robert Duvall, Tommy Lee Jones, Diane Lane, Robert Urich, Danny Glover and a bunch of other famous people.
Podcast: Play in new window | Download (Duration: 1:29:41 — 102.6MB) | Embed
Subscribe: Apple Podcasts | Android | RSS