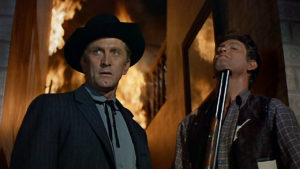 In this episode, we have a discussion about another listener request, 1959's Last Train From Gun Hill, a John Sturges potboiler revenge yarn starring Kirk Douglas and Anthony Quinn. And this one is pretty damn kickass. Telling the story of Marshall Matt Morgan's quest for justice after the rape and murder of his wife, it features a lot of familiar tropes and characterizations mixed up in a pretty unique way, and as we detail at length, bares an enormous number of similarities to the recent, excellent Keanu Reeves action film John Wick. So much so, in fact, that I believe it was likely a driving inspiration for that movie! There's a large amount of John Wick talk in this episode, as a matter of fact, and I recommend both as companion films. Topics of conversation include Dad absolutely taking Dimitri Tiomkin to task for his mediocrity, the greatness of Kirk Douglas in a rage, the copious great dialogue sequences throughout the film, a creative take on the femme fatale (as played by Morticia Addams!), Anthony Quinn's racial mutability, and just our general appreciation of the film itself. This is a damn good one, and for me, who had never even heard of it before we selected it, quite the find. We also do some low quality Kirk Douglas impersonations.
Other films discussed are, quite appropriately, John Wick Part II, which Dad just saw in theaters, and Get Out, which I saw. We like both of them immensely. There's also a quick anecdote about the 80s adaptation of Masters of the Universe, the Dolph Lundgren film. In the next episode, we'll be experimenting with our format very slightly, and talking about two films. Though to be fair, they're both called 3:10 To Yuma. It'll be the original and the remake. You can reach us at westernswithdad@gmail.com (let us know what movies you'd like to hear us talk about!), and please leave ratings and reviews for us on iTunes, which is helpful to the show!
Last Train From Gun Hill was directed by John Sturges and stars Kirk Douglas and Anthony Quinn. As a special note, the music this week is not from Last Train From Gun Hill, but another Dimitri Tiomkin score, The Guns of the Navarone! Dad says they all sound the same!
Podcast: Play in new window | Download (Duration: 1:14:08 — 84.8MB) | Embed
Subscribe: Apple Podcasts | Android | RSS