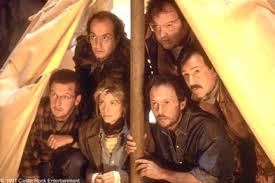 1991's big hit Billy Crystal comedy about nostalgia for old westerns is this weeks episode! Featuring an oscar-winning supporting turn for Western legend Jack Palance, this beloved family comedy explores what it means to be honest, to be masculine, and to be happy in the modern age while looking back at the genre that defined many of our expectations regarding those things. A light comedy set in the world of adventure tourism, the film is a high water mark for pretty much everyone involved, from Palance and Crystal to character actors Daniel Stern and Bruno Kirby. Dad and I have a good old time revisiting a favorite from twenty five (!) years ago, reminiscing about the dollar theater and reflecting sadly on the passage of time, that has brought me up to speed with the mid-life crises the film characters find themselves in. Topics of conversation cover Palance's oscar shenanigans, the recent unpleasantness at the Miss America pageant, a mutual love for the ice cream magnate brothers, the jankiness of the music, the motivations of the one dimensional drunk cowboy villains, the potential of a Deliverance-themed adventure vacation, and of course the sad and demeaning failure of the sequel, City Slickers II: The Legend of Curly's Gold. There are Palance impersonations, for sure.
We're a bit all over with the tangents this week, but I think it works. At the end, we discuss the greatness of the Lord of the Rings trilogy a bit, and also reflect on a few Russell Crowe movies, including his latest. The next episode of Westerns With Dad will focus on the all time Western classic, Shane. Also starring Palance!
City Slickers stars Billy Crystal, Daniel Stern, Bruno Kirby, and Jack Palance. It was written by Lowell Ganz and Babaloo Mandel and was directed by Ron Underwood.
Podcast: Play in new window | Download (Duration: 1:10:10 — 96.4MB) | Embed
Subscribe: Apple Podcasts | Android | RSS