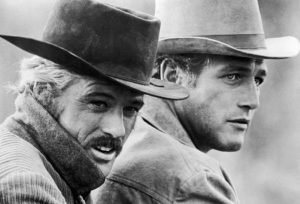 Finally, an episode we've been looking towards since the start, one of the most beloved American Westerns and a film listed on the AFI's list of Hundred Best Films: 1969's Butch Cassidy and the Sundance Kid, featuring the classic pairing of Paul Newman and Robert Redford in the titular roles. An affable, seriocomic romp through the end of the legendary Old West, the film features two of the greatest movie stars in history defining and perfecting their screen personas. The film, a loose ramble about the adventures of two infamous bank robbers, features countless iconic scenes, a delightful oscar-winning screenplay with hilarious dialogue written by William Goldman and a contentious 60s-influenced score by Burt Bacharach, which despite its Oscar wins and fame, kind of rubs Dad the wrong way! Topics of conversation include Dad's Robert Redford story, the historic pairing of these two actors (as well as alternative Sundances originally approached for the role), whether or not the film is a deconstruction, Hugh Jackman's high level of charm and low level of good movies, the role of destiny and fate in the story, and of course the famous ending, as well as the conspiracy theory regarding Butch's ultimate fate (and whether it even matters anymore). Great film, you should watch.
We also talk a bit about Playoff Football and the Vince Vaughn film Brawl in Cell Block 99, written and directed by S Craig Zahler (of Bone Tomahawk fame). If you'd like to reach us online, please email us at westernswithdad@gmail.com, where you can ask questions or suggest episodes, and visit us at westernswithdad.com to download older episodes that have dropped off the iTunes feed. And speaking of iTunes, why not leave reviews or ratings of the show there, as it increases visibility! Alright!
Next week, we'll be talking about Netflix's new limited series, Godless. Butch Cassidy and the Sundance Kid stars Paul Newman, Robert Redford and Katherine Ross, and was directed by George Roy Hill.
Podcast: Play in new window | Download (Duration: 1:11:20 — 81.6MB) | Embed
Subscribe: Apple Podcasts | Android | RSS