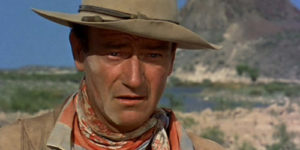 Hondo! This is the episode on Hondo! Your basic John Wayne studio western, Hondo adapts a Louis L'Amour novel about a noble drifter coming to the aid of a single mother and her son living on the outskirts of civilization. The plot resembles Shane in some superficial ways, but this film also has a bit of notoriety as the John Wayne: Indian Killer movie. Indeed, 1950s attitudes about Native Americans are front in center in this movie, and much of the conversation revolves around the film's portrayal of the Apache, which is layered, to say the least. Hondo! Topics of discussion include the surprising chemistry between John Wayne and Geraldine Page, the seemingly-Italian names for the central Apaches, the superiority of this film's child actor, the bearlike charisma of Ward Bond, and consistently throughout, the frequent push/pull between the film's attempt to accurately and sympathetically portray Native Americans and its existence as a film very much of its time, susceptible to innate cultural prejudices of the 1950s. It's an interesting film, if not an extraordinary one. Dad also has some interesting background on the film, and it turns out, this was possibly his introduction to loving westerns and John Wayne in the first place. Hondo!
Afterwards, we talk about other recent watches, including Dad's Turner Classic Movies kick. We talk Greta Garbo in Queen Christina, The Prisoner of Zenda, the concluding chapters of the Hunger Games films and the new Star Trek. Join us for the next episode, wherein we'll be talking about our first Sergio Leone film, A Fistful of Dollars, starring Clint Eastwood!
Please rate and review us on iTunes, as it helps increase our visibility! Also, you can reach us at westernswithdad@gmail.com
Hondo was directed by John Farrow and stars John Wayne, Geraldine Page and Ward Bond.
Podcast: Play in new window | Download (Duration: 1:07:16 — 92.4MB) | Embed
Subscribe: Apple Podcasts | Android | RSS