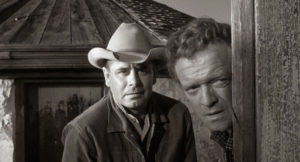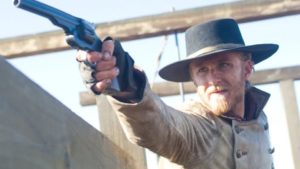 There are two notable films entitled 3:10 To Yuma, and we'll be taking a look at both in this episode. There's the 1957 original, a B&W studio Western directed by Delmar Davis, and the 2007 remake from James Mangold, with a cast full of famous names. It turns out both are pretty worthwhile, and in fact, they make a very interesting point/counterpoint next to each other, coming at similar thematics from very different perspectives. Dad and I do end up deciding we preferred one over the other, but the experience of watching both is probably what made them most fun to talk about. A lot of that turns on the dramatic difference in the endings, which we discuss at length, as well as many other changes both deliberate and accidental, clever and ill-advised. Further topics of conversation include Van Heflin's frequently shamed masculinity, how cool murder can be, Seth Rogen's suitability for the genre, the merits of a stacked supporting cast versus a well cast two-hander, Elmore Leonard, Logan Lerman, Russell Crowe's ability to biologically secrete dinner forks, and a few of our most frequently revisited themes, Native Americans used as dangerous window dressing and the morality of just plain killing bad guys for the greater good. As usual, we liked the films very much, and you should probably see them, if you haven't already.
We spend so much time on 3:10 To Yuma that we're fairly brief on other films we've seen, but we spend some time singing the praises of Logan, the most recent James Mangold film, which quite deliberately quotes Shane as a thematic inspiration. Next time on the podcast, we'll be talking about Disney's Davy Crockett in all its permutations, as well as Disney's input on the Western genre, back in the day. You can reach us through westernswithdad@gmail.com, and please rate and review us on iTunes! It's helpful for our visibility on iTunes!
3:10 To Yuma (1957) stars Glenn Ford and Van Heflin, and was directed by Delmar Daves. 3:10 To Yuma (2007) stars Russell Crowe, Christian Bale and Ben Foster, and was directed by James Mangold.
Podcast: Play in new window | Download (Duration: 1:28:49 — 101.6MB) | Embed
Subscribe: Apple Podcasts | Android | RSS