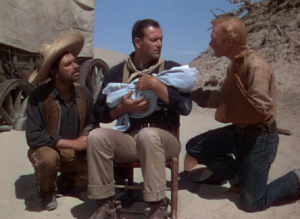 It's the holiday season, and despite the near complete dearth of overlap between Westerns and Christmas movies, we have gone out of our way to find one, and are met with mixed success! The Christmas film in question is 3 Godfathers, a John Ford film from 1948 that ostensibly retells the story of the Three Kings visiting the Christ Child in the manger, but imagines it as a John Wayne Western that has nothing to do with divinity, and only a bit to do with Christmas. It's a grim adventure tale about sin and death, with an atonal happy ending! It features John Wayne, Pedro Armendariz and Harry Carey jr. as three bank robbers who, during their escape through the desert, come upon a woman giving birth to a child, and are forced into the role of caretakers for the baby. Along the way, there's a few things that might kind of remind you of the Christ story, if you squint! But it's an interesting story nonetheless, and features some beautiful photography, a typically strong Wayne performance, and some more Ward Bond. Topics of conversation range from the melancholy of Streets of Laredo, horrible sandstorms, how to draw water from a cactus, how great The Man Who Would Be King is, what exactly the deal was with the Brementown Musicians (and how involved with Christ were they), and how much people seem to dislike John Ford. Additionally, we talk about a short film by Don Siegel, Star in the Night, a recommendation from one of our listeners! It ends up being what we expected to find in 3 Godfathers, which is an actual retelling of the Birth of Christ as a Western. It's available on youtube and is well worth a look.
We also have a conversation about the new Star Wars films, Rogue One, and the perennial holiday classic, The Christmas Story. In the new year, we'll be back with an episode on the Robert Duvall/Kevin Costner throwback western Open Range, one of Dad's favorites. You can reach us at westernswithdad@gmail.com, where you can make requests for future episodes, and please remember to rate and review us on itunes, which increases our analytics somehow and is good for the podcast! This marks our one year anniversary, so thank you all for listening and making this such a fun project. Looking forward to 2017!
3 Godfathers stars John Wayne, Pedro Armendariz, Harry Carey jr., and Ward Bond. It was directed by Ward Bond.
Podcast: Play in new window | Download (Duration: 1:00:25 — 69.1MB) | Embed
Subscribe: Apple Podcasts | Android | RSS