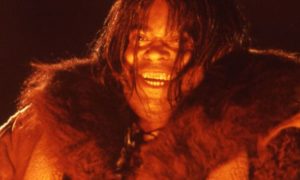 To finish out our October tradition of Spooky Westerns, we wanted to talk about Near Dark, the cult classic vampire western from academy award winning director Kathryn Bigelow, but due to a lack of streaming options, we were unable to easily find it and instead watched a forgotten anthology Horror film no one remembers or cares about, Grim Prairie Tales! In truth, I've always been curious about this bizarre title, starring terrific character actors James Earl Jones and Brad Dourif as wandering cowboys sharing a campfire and swapping ghost stories. And it's not really that good, I'm afraid, but it's pretty weird, and there simply aren't any other films quite like this. Dad is perhaps a bit less forgiving. Topics of conversation include the YouTube rip we watched and its horrible picture quality, some Brad Dourif fawning, my debunked theory on the Indian Burial Ground story and its root in Star Trek: The Next Generation, the film's ambitious feint towards social issues featuring William Atherton as a murderous pilgrim (with a sidebar on Atherton's post-Ghostbusters woes), several occasions where the storytelling fails, better movies it reminded us of, such as Planes, Trains and Automobiles, which I wish this ended like. A lot of it is us trying not to laugh too meanly, admittedly, but in the end, I enjoyed my time with the film. And again, Dad, less so. You get some impersonations of Jones and Dourif too. You should all see Near Dark though!
We also spend some time discussing a more successful genre mashup, Tales from the Hood, which employs a similar strategy of utilizing the Horror anthology format but to much better effect. On the next episode, we'll be discussing Jubal, a Western reworking of Othello starring Glenn Ford and Ernest Borgnine. You can find us online at westernwithdad.com and iTunes, of course (please leave us ratings and reviews to increase the visibility of the podcast!), and you can email us at westernswithdad@gmail.com, where you can suggest future episodes and also ask us questions!
Grim Prairie Tales was directed by Wayne Coe and stars James Earl Jones, Brad Dourif and William Atherton.
Podcast: Play in new window | Download (Duration: 1:03:01 — 72.1MB) | Embed
Subscribe: Apple Podcasts | Android | RSS