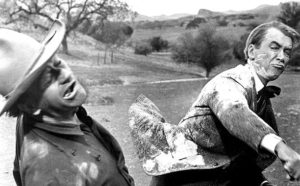 Described as 'The Citizen Kane of Westerns' (by some guy on Rotten Tomatoes), this 1962 John Ford film certainly has a murderer's row of great Western talent, starring no less than John Wayne, Jimmy Stewart and Lee Marvin. It's also a deeply considered rumination on the building of America, and all civilization, and the role of both politics and men of conscience within that world. Heady stuff, but also the very core of what Westerns are all about! It's also a film with nostalgic significance for both Dad and I (as many of these John Wayne films are), and as such, we've got a lot on our minds in this one. If anything, biggest surprise is that we have any reservations at all. Of course, in the end, we really think it's great and that you should see it. Topics of conversation include some Deadwood nerd talk, the significance of the name Liberty Valance, emasculation semiotics, the representative politics of Jimmy Stewart and John Wayne, Andy Devine's irritating shtick, the internet's pejorative use of the term White Knighting, the famous theme song which does not appear in the film, John Wayne's aptitude with concise, surprising violence, and our enormous admiration of Lee Marvin. Impersonations include, as you would expect, Jimmy Stewart, John Wayne and Andy Devine (but NOT Lee Marvin). And considering this has been called the most political of westerns, you'll be glad to hear we pretty much completely evade discussing recent events, such as elections!
At the end, we discuss some recent blockbusters. Dad gives his take on Doctor Strange, and I offer my harsh judgement of Fantastic Beasts and Where to Find Them. On the next episode, we'll be venturing back to the 90s with Richard Donner's Maverick, starring Mel Gibson!
The Man Who Shot Liberty Valance was directed by John Ford and stars John Wayne, Jimmy Stewart, Lee Marvin, Vera Miles, Andy Devine and Woody Strode.
Podcast: Play in new window | Download (Duration: 1:17:20 — 88.5MB) | Embed
Subscribe: Apple Podcasts | Android | RSS