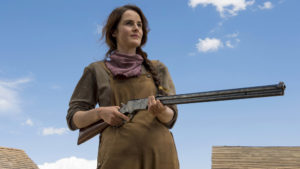 On this episode, we'll be discussing the new limited series on Netflix, Scott Frank's Godless! The small mining town of LaBelle becomes the battleground for a conflict between two outlaws, one good, one very bad, and the population, mostly widows, find themselves in a war for their way of life. Real western stuff! Despite appearances to the contrary, this is much more of a straight-up western in the old tradition than you might expect, and on those terms, it succeeds quite well. Topics of conversation include the confused doctrine of madman villain Frank Griffin, the winning performances and puzzling script decisions throughout, Sheriff Bill McNue's essential Bill Paxton-ness, the unfortunately scripted fate of the Buffalo Soldiers, the Mountain Meadows Massacre, friendly ghost Indians, pointless sexual violence, and the panoply of various characters coming in and out of LaBelle and its surroundings over the course of the show. In truth, this is such an epic show that we probably could have filled four hours, so this isn't nearly as detailed as our usual episode, but the long and the short is that if you're listening to this podcast, Godless is probably worth your time. It's all just so handsomely appointed!
Other topics of conversation include the upcoming Super Bowl and the surprisingly similar female Goodfellas riffs Molly's Game and I, Tonya. You can find us online at westernswithdad.com, or on iTunes of course, where you could even leave ratings and reviews to increase the profile of the show, thus helping us! And please feel free to email us any questions or film recommendations at westernswithdad@gmail.com!
On the next episode, we'll be talking about The Good, the Bad & the Ugly, completing our coverage of the Man With No Name trilogy! Godless was directed by Scott Frank and stars Jack O'Connell, Jeff Daniels, Michelle Dockery, Scoot McNairy and Merrit Wever.
Podcast: Play in new window | Download (Duration: 1:23:40 — 95.7MB) | Embed
Subscribe: Apple Podcasts | Android | RSS